The Mody School auditorium is magnificent, unique and one of the best in country. The design ensures a perfect view of the main stage irrespective of the seating location. The monumental stage of the auditorium is a very good platform for the students of the School to showcase their multiple talents in the field of theater, drama and dance.
The Sabhagar is named after the spiritual poet and classical musician of India, Swami Haridas. It has a seating capacity of 1040 people. The auditorium is equipped with state-of-the-art audio-visual system by Bose and Christie (World renowned names in the field of acoustics and cinema projection) for movie projection (22,000 Lumen), cultural and educational programmes. The Foyer of Swami Haridas Sabhagar is tastefully decorated with water-bodies, fountains and greenery. The front and central portion of the complex has grand statue of Lord Natraja giving it a divine and spiritual look. The interior walls are embellished with celestial and spiritual sculptures, murals and paintings.
The Mini Auditorium takes its name from the world famous Tansen or Ramtanu Pandey (who was one of the Navratnas in the court of Akbar and disciple of Swami Haridas). Sabhagar has a seating capacity of 303 people. The Auditorium mainly used for organizing national seminars, lectures, workshops, symposiums and small scale dance, drama, theater and other cultural events.
Both the auditoriums are designed and constructed using modern age HVAC (Heating, Ventilating and Air-Conditioning), Electrical and Emergency Services.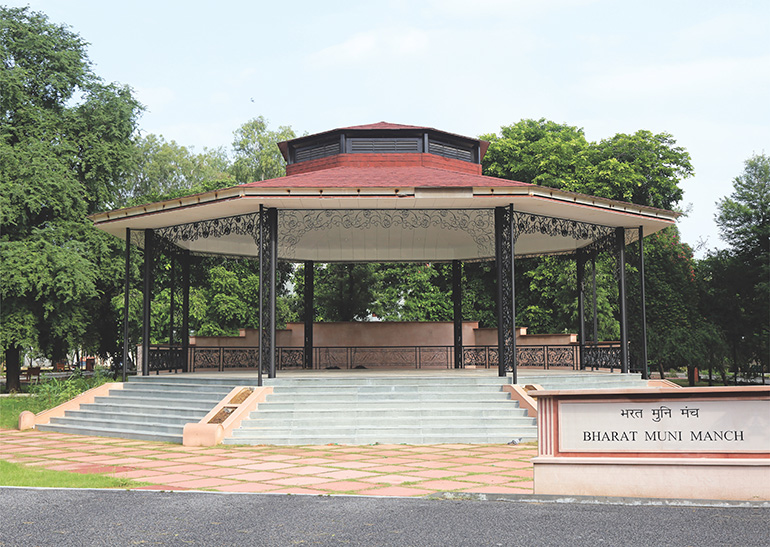 Bharat Muni Manch is the latest addition to the infrastructure and assumes pride of place, facing the Haridas Sabhagar on First Avenue. Named after the great sage, Acharya Bharat Muni, it is the perfect place to showcase the talents of students interested in the Performing Arts. Acharya Bharat Muni was an ancient Indian theatrologist and musicologist who wrote the Natya Shastra- a theoretical treatise on ancient Indian dramaturgy and histrionics. He is considered the father of Indian theatrical art forms.
The open stage is a wonderful platform for our girls to hone their skills in various art forms. The state-of-the-art sound and light system and the benches dotting the green lawns add to splendid ambience and create an aura that appeals to music and theater aficionados, bringing out the best from our students in both these areas.